Most coarse hair wavers know all too well the challenges we face finding the perfect pomade. We want to stay natural. We don't want the product buildup. We can't wolf too long and we can't cut too short. To create the perfect set of waves, many have to accentuate different parts of the wave like the silk and/or the sharp edge. Control however, continues to be a MAJOR problem with natural coarse hair wavers trying to stay away from the hair glue in the orange cans.
Well family..We have finally cracked the code!!!
Created under the highest standard and tested for over a yer, our Matte Clay Pomade has the conditioning emollients for softness, humectants for depth, and sealants for shine.. But most importantly for the coarse haired, it has the needed HOLD. In fact, it has THE MOST HOLD OF ANY NATURAL POMADE ON THE MARKET!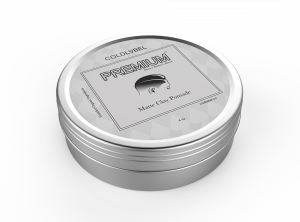 Try it and be sure to leave us an honest review. *Be sure to follow us on IG | @premiumwavers